Vaclav Havel, who created a new heart of Europe
LOGS OF MONDAY, 19-12-2011 (Times are in UTC!) :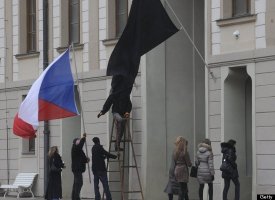 At the center of Praha (CZ) this morning
In memory of Vaclav Havel: Center of Praha yesterday evening
-
UNID ON 6219kcs
, 14.46hrs, SINPO 34333
( English oldies )
-
RADIO OSAKA
, 6305kcs, 14.52hrs, SINPO 44444
( Music by Elvis Presley/ Oldies )
-
RADIO RAINBOW INTERNATIONAL
, 6299kcs, 15.42hrs, SINPO 44434
( Music by The Beatles )
-
RADIO BENJAMIN
, 1675kcs, 21.55hrs, SINPO 25232
( Pop music )
Praha also at these hours...
May god be with you, Vaclav and thanks for what you have done for this world!
No logs of us at wednesday this week, because we will be at Praha the whole day
and evening
to say goodbye to Vraclav Havel.
Any pictures from there will follow at thursday here.