LOGS OF SUNDAY, 24-11-2013 :
( Times in CET! )
Greetings from Poland
- RADIO MUZIEKLAND, 6285kcs, 15.28hrs, SINPO 4-5,4434
( Pop rock oldy )
- TOP RADIO, 6325kcs, 15.31hrs, SINPO 2-3,4232
( Pop music )
- RADIO BLACK ARROW, 6205kcs, 15.34hrs, SINPO 43444
( Soul music )
- RADIO ACDC, 6242kcs, 15.37hrs, SINPO 4-5,444,4-5
( Pop rock music )
- RADIO PINK PANTHER, 6796kcs, 17.27hrs, SINPO 34333
( Dutch music )
- SLUWE VOS RADIO, 5730kcs, 17.32hrs, SINPO 45344
( Pop music )
- RADIO MAGIC AM, 6374kcs, 17.35hrs, SINPO 4-5, 4444
( Pop music )
- RADIO BAKEN 16, 6327kcs, 17.38hrs, SINPO 34233
( Pop oldy )
- UNID ON 1654kcs, 18.12hrs, SINPO 2-3,424,2-3
( Pop oldy )
- RADIO FIREBIRD, 1620kcs, 18.15hrs, SINPO 3-4,433,3-4
( English oldy )
- MARINEBROADCASTERS, 6530kcs, 18.17hrs, SINPO 24232
( Pop music )
- TANGO RADIO, 6265kcs, 18.19hrs, SINPO 3-4,4333
( Tango music )
- DE WITTE TORNADO(?), 1647kcs, 18.22hrs, SINPO 34333
( Dutch music )
- UNID ON 1611kcs, 18.25hrs, SINPO 33333
( Dutch music )
- RADIO RELMUS, 1625kcs, 20.24hrs, SINPO 34233
( Pop oldy )
- LASER HOT HITS, 4026kcs, 20.55hrs, SINPO 3-4,433,3-4
( Pop music )
- RADIO KORAK, 1666kcs, 21.30hrs, SINPO 2-3,3332
( Dutch music )
- RADIO SPACESHUTTLE, 3905kcs, 21.34hrs, SINPO 2-3,433,2-3
( Pop music )
- UNID ON 1656kcs, 22.30hrs, SINPO 3-2,423,3-2
( Dutch music )
Ukrainian protesters flood Kiev after president pulls out of EU deal
Biggest demonstrations since Orange revolution after Viktor Yanukovych allegedly aborts trade deal under Russian pressure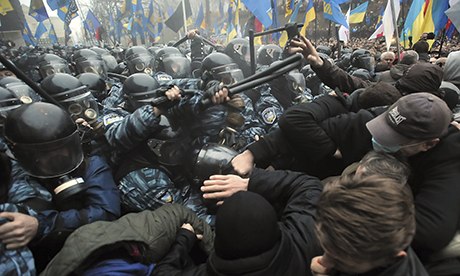 Tens of thousands of Ukrainians have flooded the streets of Kiev in the biggest anti-government protest since the 2004 Orange revolution to demand President
Viktor Yanukovych
reverses a decision not to sign a key pact with the
European Union
.
The rally, which may herald the most serious challenge to Yanukovych's authority since he came to power in 2010, ended with scuffles with police outside government offices. Police responded with teargas.
Ukraine
was to have signed a historic free trade and association deal with the EU at this week's Eastern Partnership summit in Vilnius, Lithuania. EU officials said Ukraine's abrupt U-turn came as a result of Kremlin pressure.
Russia
's president, Vladimir Putin, wants Kiev to join a Moscow-led customs union. An estimated 45% of Ukraine's population support closer ties with the west.
"We want to be in
Europe
" said 46-year-old Liudmyla Babych, a saleswoman from Kiev, holding a placard reading "Mr President – the Ukrainian nation will not forgive you this treason."
The protesters marched through the streets of Kiev as part of a nationwide day of protest chanting the slogans "Out with the gang!" and "Ukraine is Europe" and singing songs popular during the Orange revolution. Tens of thousands of people held a peaceful meeting on European Square demanding Yanukovych abolish the decree and sack the government.
But after the meeting, several hundred protesters rushed to the government headquarters demanding the government's resignation and that of the presidential administration. People threw smoke bombs and stones at police and shouted "Revolution!" Opposition politicians tried to calm the crowd but without success. The police responded by deploying teargas.
Many people came to Kiev from other regions. "We already were under Russian rule for hundreds of years," said Mykhailo Yaremchuk, a villager from the Vinnytsia region in Ukraine's north-west, holding up a banner calling for the release of jailed opposition leader
Yulia Tymoshenko
, whose imprisonment has been an obstacle to an EU-Ukraine deal. "I came here hoping that my children and grandchildren will live in Europe, that they will live a better life than I had."
In an address read by her daughter, Eugenia, Tymoshenko said: "By mystical coincidence Yanukovych again brought us to the squares. We need to complete what we didn't finish after Orange revolution back in 2004."
The protesters also demanded parliament hold an unscheduled meeting this week to pass two laws needed for the EU association deal, including a law that would ensure Tymoshenko's release.
Demonstrators said they would picket the government offices until the summit in Vilnius pressing those in power to sign a historic bill. "I was here for the Orange revolution and I'm now here again and will stay here until Yanukovych signs the deal," said Igor Moskalenko, a 56-year-old engineer from Kiev.