DEAR USERS OF THE INTERNET,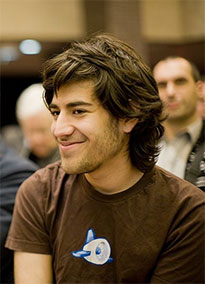 In January 2012 we defeated the SOPA and PIPA censorship legislation with the largest Internet protest in history. A year ago this month one of that movement's leaders, Aaron Swartz, tragically passed away.
Today we face a different threat, one that undermines the Internet, and the notion that any of us live in a genuinely free society: mass surveillance.
If Aaron were alive, he'd be on the front lines, fighting against a world in which governments observe, collect, and analyze our every digital action.
Now, on the anniversary of Aaron's passing, and in celebration of the win against SOPA and PIPA that he helped make possible, we are planning a day of protest against mass surveillance, to take place
this February 11th
.
WHAT WE'LL DO ON FEBRUARY 11th:
If you're in the US:
Thousands of websites will host banners urging people to call/email Congress. Plans may change, but we intend to ask legislators to oppose the
FISA Improvements Act
, support the
USA Freedom Act
, and enact protections for non-Americans.
If you're not in the US:
Visitors will be asked to urge appropriate targets to institute privacy protections.
Take Part: This is
your

moment
The SOPA and PIPA protests were successful because we all took part, as a community.
As Aaron put it, everybody "made themselves the hero of their own story."
We can set a date, but we need all of you, the users of the Internet, to make it a movement.
1: SIGN UP TO ADD A BANNER TO YOUR SITE

We're creating embeddable banners and widgets that you'll be able to add to your site to encourage visitors to participate in the day of action. The photo above is just a draft - the final design is yet to come.
Sign up here if you have a site that can participate and we'll let you know how to implement a widget when they're ready. And if you work at a tech company or startup, lobby the management and ask them to join too.
Sign up and get notified when they're ready:
2: TELL THE WORLD YOU'RE TAKING PART

3: JOIN THE CONVERSATION ON REDDIT
4: BE CREATIVE: DO WHATEVER YOU CAN
This moment is whatever we, the broad community of people who care about the Internet, make of it. Post a comment with a link to every NSA-related story. Make and share a meme. Build a website. Organize an event.
Then
tell us about it
so we can spread the word.