https://www.youtube.com/watch?v=xGNB3pD4Zi8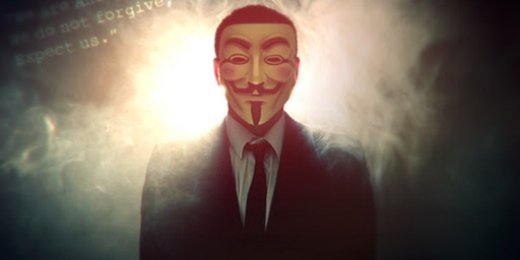 #OpRussia #Anonymous #Crimea #CrimeInvasion - Get ready to strike. Don't forget to use VPN or other ways to be safe.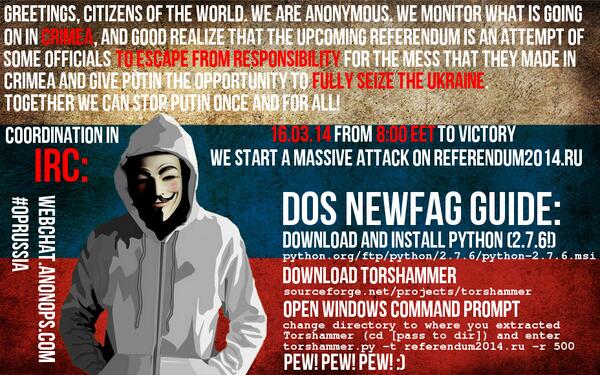 Спасибо все кто участвует и помогает участвовать в DDoS атаках. Нам нужна помощь с видео и др., если есть желание помочь - email в профиле.

We Are
#
Anonymous
, We Are
#
Legion
, We do not forgive, We do not forget,
#
Expect
us. legionrussia@yahoo.com
Greetings Russians, we are Anonymous of Russia.
Today, we mark a transition in which we never intend to play nice. For months now, Operation Russia has been focusing on cracking emails of some prominent pro-Kremlin activists and officials to accuse them in paying some influential bloggers for publishing stories and commenting in favour of Vladimir Putin on negative press articles on the Internet. This spawned our follow-up operation, called Operation Defiance, in which we temporarily took down the websites of the Kremlin and the newly elected Russian president, Vladimir Putin.
However, we never suspected that one of the greatest annoyances came from within. According to author Anatoly Zak,
the Phobos-Grunt mission
, touted as the nation's return to deep space, had clearly shown as another mismanaged project by the Russian Space Research Institute, as what insiders had warned all the while. In spite of widespread knowledge of the project's deficiencies, the doomed launch was green lighted.
When Phobos-Grunt
failed
and
crashed
, and
any of the repeat mission will be delayed
, IKI scientists (and the staff at the Lavochkin Association, IKI's main contractor) had conspired to create a thorn in the Russian Federal Space Agency. They continued to remain interested in going ahead with such a mission at some future time even though it was acknowledged. But this obsession of Phobos could not be hidden forever. Finally, when Russia signed an agreement to fully participate in ExoMars, they came to realize themselves about their current priorities.
The scientists have believed that any future Russian sample return mission to Phobos haven't ruled out yet, and so they keep its Phobos-Grunt project website
phobos.cosmos.ru
alive, and using it as a news website part of its
stp.cosmos.ru
network, posting certain news articles. This, along with their dissatisfication of Roscosmos' outcome, has alarmed us, and, along with the failure of the Phobos-Grunt mission, is a signed death warrant to IKI RAN Institute and its officials. We have directed our serious message to the scientists involved in this unrepeatable mission, threatening them with jail and treason charges and issued a warning to Laboratory 801 to drop its Phobos-Grunt website from its server. Yet, they don't bother all of our demands.
For this, stp.cosmos.ru and its operator Laboratory 801 of IKI RAN Institute, as well as the scientists and engineers behind the failed Phobos-Grunt mission, have been declared as enemies of Operation Russia. By taking down this site, we are seizing the domains associated with the Phobos-Grunt project website, and perhaps we are throwing the scientists behind this mission in jail and punishing them as well. Don't worry, no website defacements and distributed denial of service attacks will be made. We will continue to threaten to destroy the stp.cosmos.ru network and seize the Phobos domains until they met our following demands:
"Our demands are simple. Cease all news article postings on the Phobos-Grunt project website phobos.cosmos.ru on all English and Russian language versions. Erase all links to this website. Toss it off from your servers. It does not matter who you are at IKI, but if we find you using this website to support the repeat of Phobos-Grunt, or posting news articles or miscellanea, you will become a target. We know because you like the way it is. Or it may be due to your sick obsession with Phobos when Russia reaching a deal with ESA to participate in ExoMars. Don't worry, we'll allow you to restore back this website only if Russia decides to concentrate its efforts on the Phobos mission at some future point.
Clean up your web servers of old information, this includes the removal of homepages of past missions and projects such as Mars 96. These information will be stored in the soon-to-be-opened IKI archives instead.
Retrench your web staff at Laboratory 801, retrain them and remind them of security and timely and up-to-date free speech in both Russian and English."
Failure to meet these demands by the time
Russia formally signs an agreement with ESA to participate in ExoMars in November
, we will stage a protest around and occupy IKI with our full-fledged wrath. IKI scientists and any collaborators behind Phobos-Grunt will suffer the same fate as those responsible engineers at the Lavochkin Research and Production Association when
they faced punishment
from Russian President Dmitry Medvedev. We will create and make freely available methods at our disposal to render IKI's proposals and plans for a repeat Phobos sample return mission (and any other future Russian mission to Phobos) useless, and let these methods to be known to the entire Russian public. One of these methods involves the production of a full feature film similarly entitled
Phobos-Soil
(or
Phobos-Grunt
), to be produced by Timur Bekmambetov. We definitely there will be some kind of an element of Anonymous to the film. The second will involve the trademarking of Phobos-Grunt and its related names - these do not relate to the mission and spacecraft itself but other products and services of any kind - one of them is a video game for Microsoft Windows PCs, Macs, PlayStation 3, and Xbox 360. We will also perhaps leak the documents relating to Phobos-Grunt before its launch to the world as fast as we can.
This is one of our efforts to wake Russia up and raise its awareness about its rapidly decaying infrastructure, plagued by corruption, carelessness and problems. We have decided to openly declare war on this infrastructure. We are not focusing on failed launches. We fight for free speech without censorship. We fight because nothing is safe as the staff take no measures to ensure safety of their websites and their servers and to update, remove or add them, as well as preparing future interplanetary probes for the unexpected that doomed them. This is unforgivable, this is where IKI made us angry and forced us to believe there are always crazy here in Russia. We will not let them down. We will attack them and human blood will flow off. This should be a lesson for IKI and the rest of the Russian Academy of Sciences.
We are Anonymous.
We are Legion.
We do not forgive.
We do not forget.
Expect us.