Germany asks top US intelligence official to leave country over spy row
Move comes in response to two reported cases of suspected US spying in Germany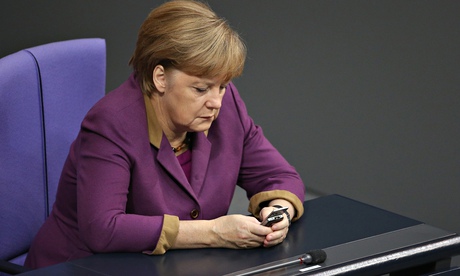 The German government has asked the top representative of America's secret services in
Germany
to leave the country. Members of the government's supervisory panel announced the measure at a press conference in Berlin this afternoon.
Clemens Binninger, a member of Angela Merkel's Christian Democrats, who chairs the committee that oversees the intelligence services, explained that the move came in response to America's "failure to cooperate on resolving various allegations, starting with the
NSA
and up to the latest incidents".
The move comes in response to
two reported cases of suspected US espionage in Germany
and the year-long spat over reported
NSA
spying in Germany, including
claims that Merkel's phone was tapped
.
A spokesperson for the CIA declined to comment on Germany's request when approached by the Guardian.
Merkel's spokesperson, Steffen Seibert, confirmed the decision in an official statement, which said: "The government takes these activities very seriously. It is essential and in the interest of the security of its citizens and its forces abroad for Germany to collaborate closely and trustfully with its western partners, especially the US.
"But mutual trust and openness is necessary. The government is still prepared to do so and expects the same of its closest partners."
The request is not seen as amounting to a formal expulsion, but will send a strong diplomatic signal to the US government nonetheless.
Allegations that Angela Merkel's mobile phone had been monitored by the American National Security Agency
first emerged last October
, eventually leading to the creation of a parliamentary board of enquiry in March this year. Since then,
frustration has grown amongst German parliamentarians
over Washington's failure to answer a list of questions submitted in the wake of the scandal.
Over the course of the past week, US-German relations were further strained by two allegations of US spying on the German government. On Wednesday last week,
a member of the German intelligence agency was arrested
after reportedly supplying confidential documents to the CIA, and on Wednesday this week the home and office of an employee of the German defence ministry
was searched under suspicion of espionage activity
.
At Thursday's press conference by the supervisory panel, Burkhard Lischka of the Social Democratic Party said: "For over a year we have been asking questions and failed to get a response." As a result, Lischka said, "cracks" had started to show Germany's relationship with America.
Andre Hahn, a Left party member on the supervisory panel, said that the recent string of spying cases had shown that "we wouldn't put anything past Russia and China. But there's blind trust in the US. This trust has now taken a knock."